On November 19, two Palestinian terrorists broke into a Jerusalem synagogue in Jerusalem, brutally killed four Rabbis, one of the policemen who arrived at the scene and wounded eight others. Five weeks later, the supposedly moderate Fatah Party led by Palestinian President Abbas and the PA's official news service honored the two butchers who were killed in a shootout with police. 
Palestinian Media Watch found a December 25 post on the official Fatah Party Facebook page honoring the two terrorists:
Posting a picture of the graves of the two terrorists who murdered 5 Israelis in a synagogue in West Jerusalem last month, Abbas' Fatah movement glorified them with the supreme Islamic status of Shahids – "Martyrs… who ascended [to heaven]"

 

This is the place of eternal rest of Martyrs (Shahids) Ghassan and Uday Abu Jamal of Jabel Mukaber [neighborhood] in occupied Jerusalem, who ascended [to heaven] a month and a half ago during an operation (i.e., terror attack) at an occupation synagogue in occupied Jerusalem. Early morning today, they were escorted to their graves at Al-Sawahreh Al- Sharqiyeh."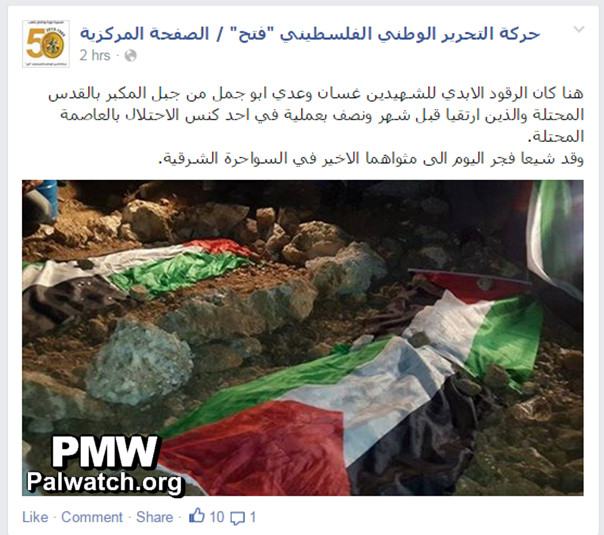 The very next day, according to Palestinian Media Watch, the killers were honored by WAFA,the official news service of President Abbas' PA:
The Palestinian Authority's official news agency WAFA likewise honored the murderers with the supreme Islamic status of "Shahids" who were "escorted… to the place of their final rest":

Yesterday [Dec. 25, 2014], the citizens of Jerusalem escorted the bodies of Martyrs (Shahids) Ghassan and Uday Abu Jamal, from the Jabel Mukaber neighborhood of south-east Jerusalem, to the place of their final rest in the Al-Sawahreh Al-Sharqiyeh cemetery, after they were held by the occupation for 37 days, and transferred to their relatives after midnight." 

[From WAFA, official PA news agency, Al-Hayat Al-Jadida, Dec. 26, 2014]
This PA promotion of terrorism was not mentioned by the mainstream media, the Obama Administration, the European Union Governments, or the United Nations, all of which wouldn't hesitate to sanction Israel for doing much less.
[ad_2]

Source link
[ad_1]